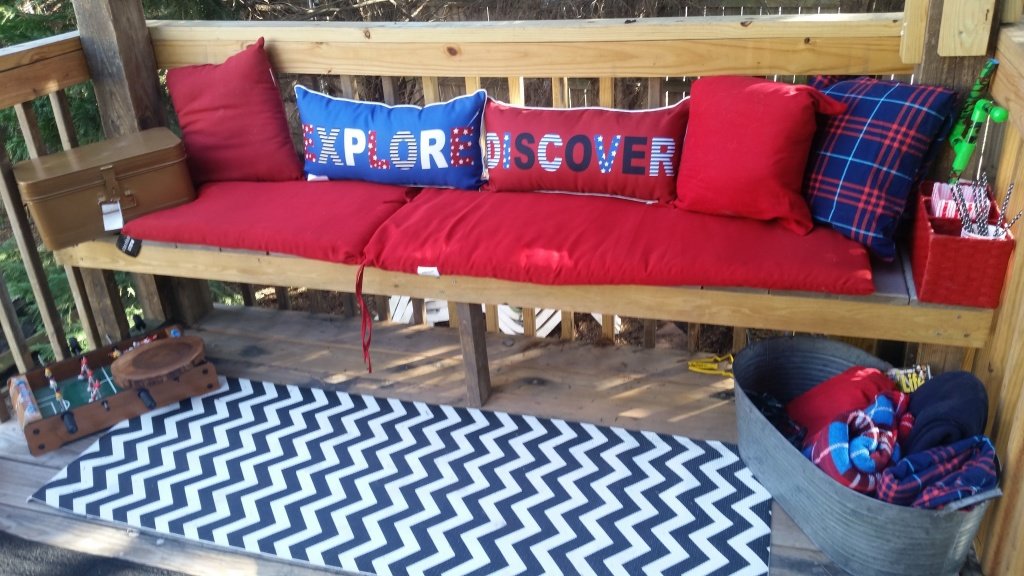 Do you remember being a kid and running around outside until dark?  Or making a hide out in your neighbor's yard?  Kids need to spend time outside in nature.  They need to spend time running around in the fresh air- maybe time pretending or playing games.  And one way to encourage kids to get outside and explore is to create a space that welcomes them to spend time outside, maybe with their favorite book, or with a friend telling stories, or pretending to be warriors battling a great force.  We have put together 10 ways you can create a fun and inviting space for your kids that they will want to spend time in.
1.   Pick a Theme
While you are planning how to spruce up an outdoor space for kids or turn a old playhouse or fort into a kid clubhouse, the first thing you'll want to do is decide on a theme or concept for your space.   Often for an outdoor space you may want to go with an outdoor, nature or camping theme.  But honestly any theme could work- camping, nature, beach, glam, playful, sports, or anything else you can dream up.   Or you can pick a basic color theme-  since I have 3 boys I went with traditional boy colors with a nature spin.  I started with a few ideas and when I found the pillows (Explore and Discover I decide to go with the colors and patterns in the pillows as a starting point)

2.  Decide What the Space will be Used for
Is it a tree fort or an area under the trees in your yard?  What will your kids do there?  What they will do there will depend on their ages, if it's for a boy or girl, and what they like to do.  Do they love to have nerf wars, or read, or play games?  Once you did how the space could be used- make a list of the items you will need to create your cozy kid space.
Ex. I knew I needed a long seat pillow, pillows, blankets, tin, table, chairs, games, storage and a few decorations, including lights, a banner, candy jar, and lantern.
3.  Start A Pinterest Project or Inspiration Board for Your Outdoor Space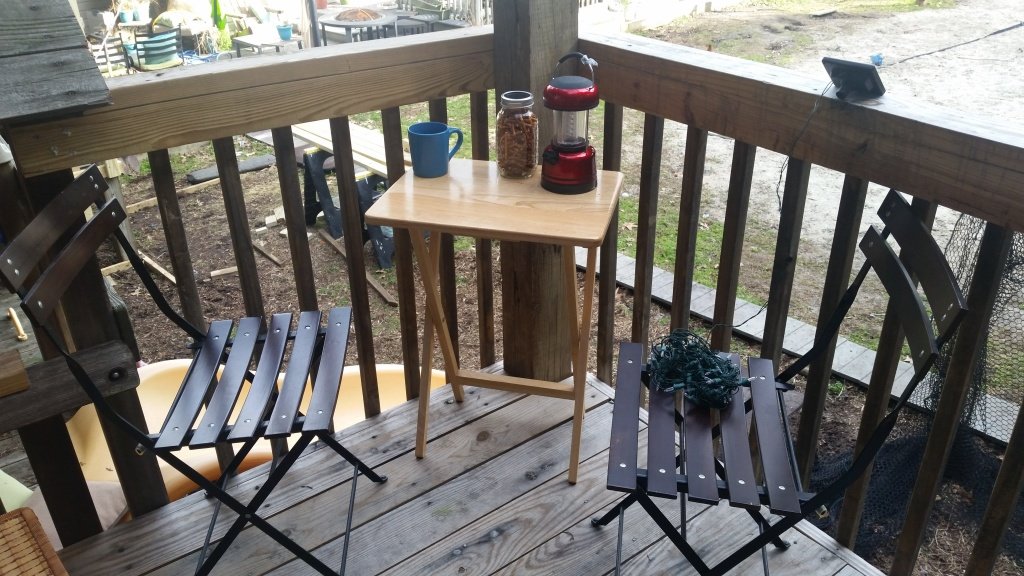 4.  Find items Your Already Have
Search your house, yard, and garage for items.  Once I had my list, I realized I had a table, chairs, lantern, and metal tub I could use in the kids fort.  You will be surprised by how many things can be re-purposed you find in your garage, attic and just not in use.  Use Your imagination.  And don't forget to check your local thrift stores and apps like Offer Up (Like Craigslist or an Online Garage Sale Listing site).
 5.  Get Your Kids Input
If Your Kids are old enough get their input on the space.   Have them help pick a concept, or pick between different choices for some of the pieces in the space.  However you decide to involved them if they help pick out things or create items to go into the space they will be more interested in the space because of the part they played.
6. Go shopping
Three of the best places to find home decor items are
@ Home, TJ Maxx/Home Goods and Hobby Lobby.  Of course sometimes Target and Walmart have items as well for such projects.  I purchased the Explore and Discover pillows, the black and white yoga mat, and  from Home Goods, I found the This is My Happy Place sign, long red seat pillow, and tree ring pillow at @Home, and found the plaid sheet set/blanket at the Thrift Store.
7. Bring in Natural or Playful Elements
Check out some of these cool tables, stools and items I found while shopping.  If you are crafty you could also make a basic seat into a fun natural creation using twigs found in your yard.  But adding in elements from nature adds character and a rustic or outdoor feel to the space.
8 Add Special Touches to the Space.
In a old tin I found at the thrift store I stored several games, a deck of cards, drawing paper, colored pencils,  and a few surprises.  I also filled several mason jars with a few goodies for the fort.  I would only put the snacks out when your kids are hanging out in it- not to be left there all the time.  And of course there are blankets if it gets chilly, and flash lights and battery operated lanterns. and a rug to sit on, along with chairs, and the bench.
 9.  Add Some Fun & Games
We love playing games and by putting a few easy, fast games in your kids outdoor space will encourage them to spend time in their fort or space.  I add small travel games that are self contained such as travel boggle, cards, story dice and any other little games.  A great place to find inexpensive games is at the thrift store- remember these games are going to be exposed to more changes in temperature, etc so you might as well grab a few used games.  I even found the mini Foosball game at the thrift store for my boys fort.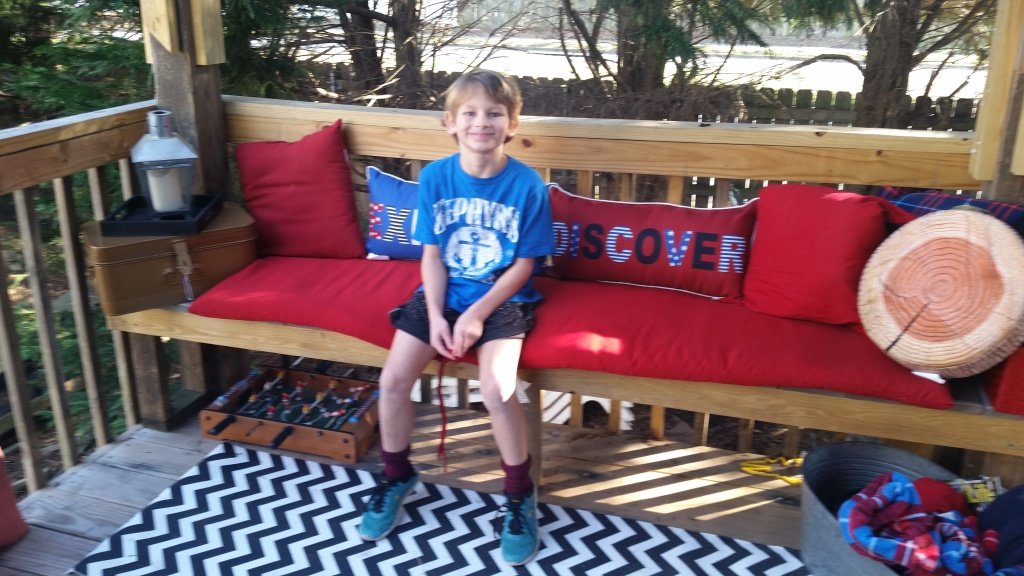 10.  Put it All together and do a Reveal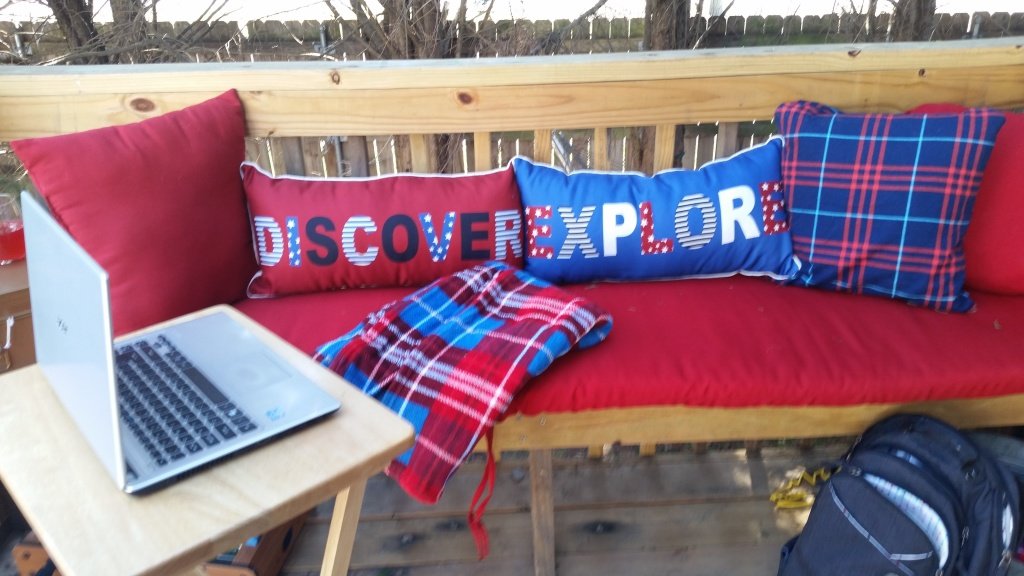 Once the space has come together have a little fun, fill it with a few special snacks and drinks and show it off.  The space should be cozy enough you want to hang out in it and just spend time there.  And yes the Kids and I have both done work out in the fort.  What can I say even us big kids need a whimsical fort to visit sometimes.
Save
Save
Save
Save
Save
Save
Save
Save
Save
Save