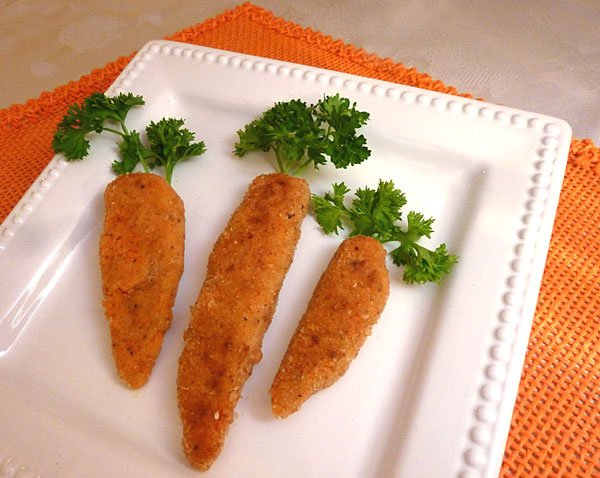 Easter Brunch Recipe
Looking for some food to serve for Easter brunch that your kids will actually eat and enjoy?  These carrot croquettes are not only cute but their sweet and savory flavor is sure to make these a favorite with all your Easter guests. They are relatively simple to make and the kids can even help in the process.
We plan to make these an Easter tradition around our house.
Carrot Croquettes Recipe:
Ingredients:
2 ½ cups steamed carrots
½ egg white, from 1 egg
¼ cup parmesan cheese
¼ cup bread crumbs
½ tsp cinnamon
½ tsp sugar
dash of salt
dash of pepper
dash of cumin
dash of garlic powder
dash of all spice
Bread crumbs for coating
Parsley sprigs for garnish
What to Do:
Mix all ingredients, except bread crumbs reserved for coating. Shape mixture into cone-shaped carrots, packing mixture together well. Gently roll in bread crumbs and set on a platter. Spray skillet with non-stick spray or use about a teaspoon of olive oil in pan. Over medium heat, fry croquettes until golden brown, turning once, about 3 minutes per side. Arrange on platter, adding a sprig of parsley for carrot tops.
Kristin Fitch & Sharon Pierce McCullough … the FoodChics
Save
Save
Save