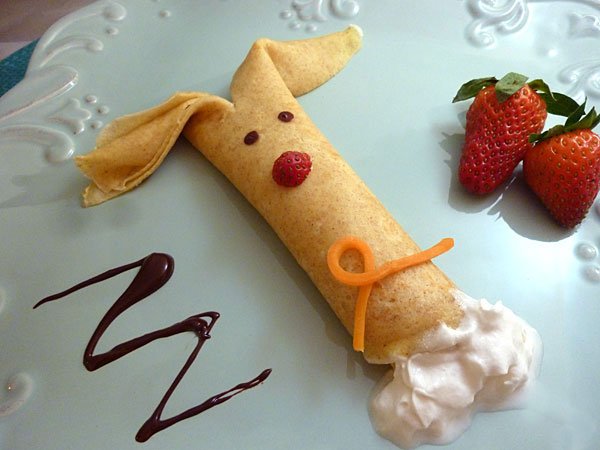 What a fun dessert! Turn your favorite filled crepes into Bunnies for Easter. They're easy to make and fun to eat. We actually plan to serve these for one of our Easter brunch surprises on Easter morning. This is a kid-friendly food that you can make anytime of the year as a special, fun food.
Ingredients:
2 eggs
1 egg yolk
¾ cup skim milk
½ cup flour
2 tsp butter, melted
½ cup water
1 tsp sugar
dash of vanilla
_________________
Strawberries
Chocolate sauce
Whipped cream
Non-stick spray / 1 tsp butter
What to Do:
Combine top ingredients, omitting flour. Whisk to combine. Slowly add the flour to avoid lumps. Using a flour sifter also works well.
To cook the crepes, first spray a round skillet with non-stick spray. Heat on medium. Add about an ounce of the crepe batter and swirl around to coat the bottom of the pan. After about 30 seconds, the edges will start to pull away from the pan. Flip crepe and cook for another 10 seconds.
Choose filling. We used diced strawberries. Add filling to the bottom 2/3 of the crepe and roll into tube, leaving the top third unfilled. Using a sharp knife, carefully make a slit through the center of the crepe, cutting only the top third. Now, shape the ears, folding each section down slightly to form the Bunny ears.
For Bunny face, cut off the tip of a strawberry for each nose. Dip a straw or toothpick in chocolate sauce to make eyes. Garnish with strawberries, chocolate sauce and a carrot curl, or candy for bow tie. Add whipped cream just before serving.
Kristin Fitch & Sharon Pierce McCullough … the FoodChics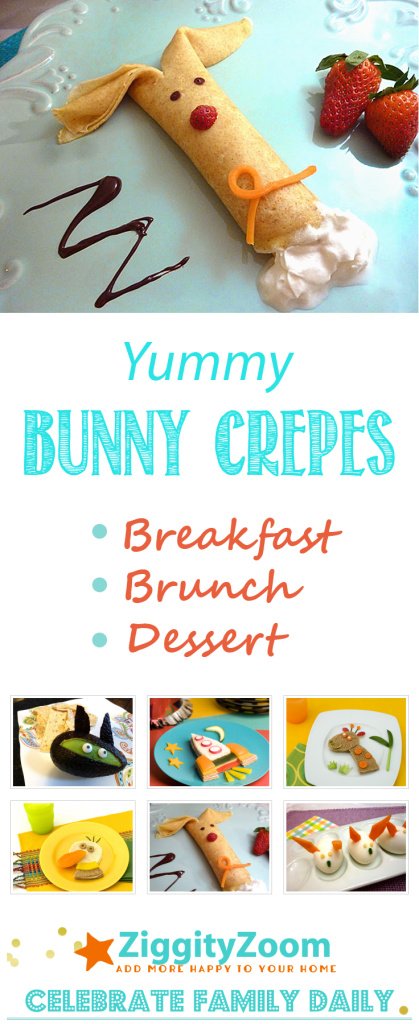 Save
Save
Save
Save