Items needed:
Two 8.5 x 11 sheets of Medium-weight Cardboard  or Thick Craft Foam
Green Paint
Small Pom Poms
Scissors
Glue Stick
Instructions:
Print Tree pattern and cut out.
Trace pattern on to cardboard or foam sheets.  Cut out.
Cut a slot (one tree piece will have a bottom slot, the other a top slot) into each Tree piece, so that it is the same thickness of your Tree pieces.  This will ensure that the pieces slide together easily.
Paint tree pieces green … unless you were fortunate enough to have green foam already.  Let dry.
Slide both tree pieces together for your free-standing Christmas Tree.
Using a glue stick, attach the pom poms to the underside of the branches.  Put a pom pom or star on top.
We suggest that adults cut the tree pieces out for young children.   Also, you may cut small circles from construction paper or foam for ball to add to trees, if you do not have pom poms.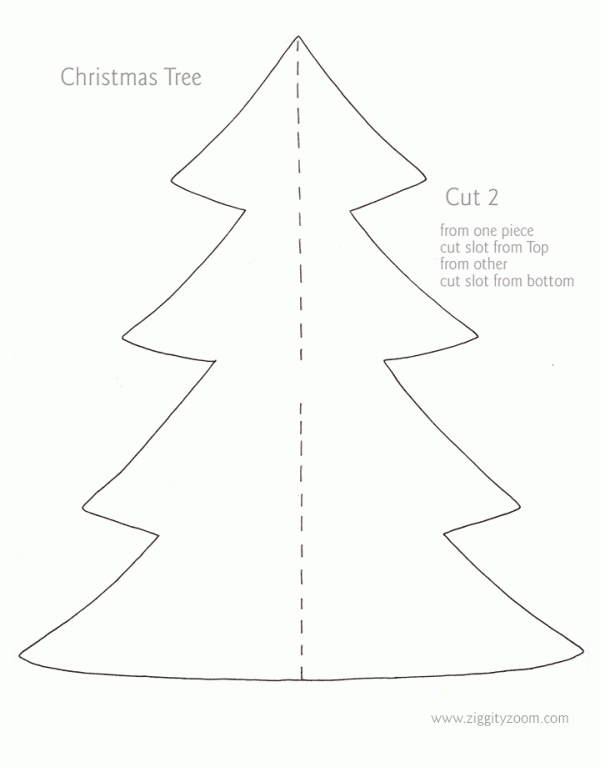 Click Pattern Image or Click Here to Print the Tree Pattern
DIrections to Print:
Print Preview the PDF- only print the pattern page, usually only page 2.  We also recommend printing a test page before using heavier paper.
Save