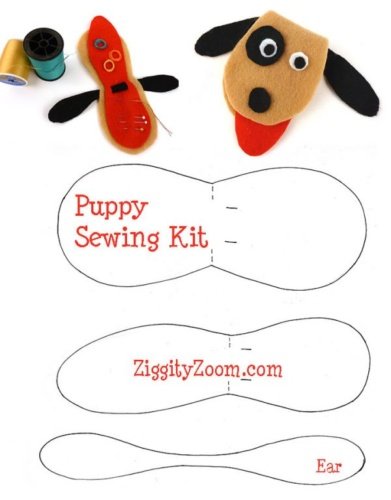 Giving Mom a card or gift for Mother's Day is sort of a big tradition.  Some moms get breakfast in bed, flowers picked from the garden (or elsewhere), balloons or candy. But we think moms especially love a handmade card or gift that children make just for mom.  That's what we love anyways.
This little Puppy Sewing Kit is a perfect idea to let kids make for their own mom. Kids can make this darling no-sew Puppy Sewing kit to give as a gift to Mom, Grandma or Auntie. A sweet gift that will always be treasured.  Or make this puppy sewing kit for your child or grandkid to encourage sewing with you.
Items needed:
Felt squares
Scissors
Tacky white glue or fabric glue
pins/needles/thread to tuck inside
Instructions: 
Print and cut out patterns for dog head, tongue and ear.  Open & Print PDF Here
Pin patterns onto felt and cut out.  also cut out a round spot, nose and eye circles.
Lay dog head piece flat.  Set tongue on top of inside of dog head, with tongue hanging out and arranged so this part will show when sewing kit is opened.  Fold both in half to make sure positioning is correct.  If need be, trim off tongue.
Pin both pieces together, at center, while laying flat and open.  Just below center line, and as shown on pattern,  make two slits with the scissors to accomodate the ears.  Ears will have to be folded in half and then woven into the slit.  Insert from the bottom first, as shown.  This will hold your Puppy together now.
Fold closed and glue eyes and nose in place.  Let dry thoroughly.
Add pins, needle and a few colors of thread, rolled into tiny circles of thread.  the threads will "stick" to the felt.
This is a fun and useful gift that kids will love giving.