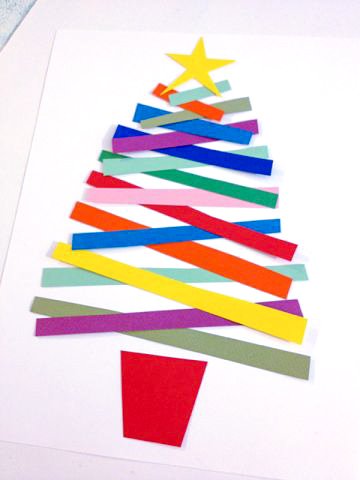 Grab your scissors and some colored paper and look at the Christmas tree you can make.  Make this Christmas tree for a wall decoration, a card or even a fun and colorful placemat.  We are going to laminate our trees and use them as decorative holiday placemats.  The simplicity and colorfulness of this tree is what makes it so special.
Need:
Colored papers or cardstock
Scissors
Gluestick
What to Do:
Using a piece of white paper as the background, or other color if desired, first cut a pot for the tree.  You can cut a square shape first and then trim off a slight angle from both sides.
Starting at the bottom, cut a strip about about 6.5 inches long and glue in place at a slight angle.
Strips can vary from 1/4″ to 1/2″ in width.
Cut additional strips, each one shorter than the preceeding one, until you top strip (branch) is only about 1.5 inches long.
Glue as you go or set in place first, then go back and recreate your tree.
Cut a star to top your tree.