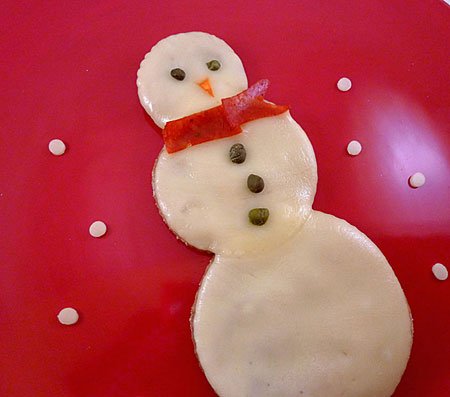 Kids love pizza whether it's a holiday or any other day of the year.  Why not make pizza night into a "make your own snowman" night?  And a favorite food just got healthier!You can use our "healthier" version for the dough or buy ready-made pizza dough but, either way, this is a truly fun family dinner idea.
Let the kids help to roll dough, make snowman and add sauce, cheese and pepperoni.
What you need:
Dough
3 ½ Cups whole wheat flour
1 Cup white flour
2 Tsp. active dry yeast
1 Tsp. sugar
1 ¼ Tsp. salt
1 ½ Tsp. olive oil
¼ Tsp. garlic powder
2 Cups water
¼ Cup grated Parmesan cheese
Other Ingredients
Tomato sauce
Mozzarella cheese
Pepperoni
Capers
Carrot
Mix dry ingredients in a large bowl.  Slowly add water, a little at a time, knead until dough is firm and smooth.  Using olive oil, grease bowl and place dough ball in bowl, turning once so all surfaces are oiled.  Cover with a cloth or plastic wrap and let rise in a warm spot until double in size, usually about 2 hours.
Place dough on a well-floured surface and roll dough to about ¼ inch thick.  Cut out three different sizes to form each snowman, by hand or using pastry cutters.  Assemble snowman on baking pan, attaching "balls" by pressing together.  Add sauce, cheese and Snowman decorations.  Cut pepperoni into scarves, piecing two pieces together, if necessary.  Make noses by cutting tiny carrot triangles.
For more ZiggityZoom fun food ideas.
By Sharon Pierce McCullough & Kristin Fitch
Save