---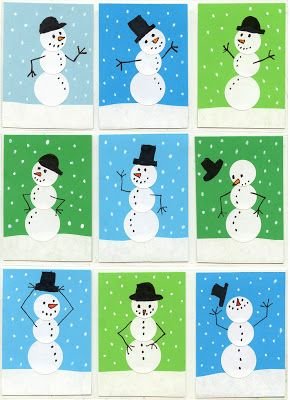 Snowmen signify winter and what better time to try a fun new art project.  Kids can even make these cute snowmen to add to their gifts this holiday season.  Kathy Barbro shares another fun art lesson for kids.  This fun winter art project shows kids how to make snowmen come to "life" by altering where the face and buttons are placed on the body. The fact that they can easily do this all with stickers and markers makes it even more fun.
1. Cut lots of cool colored paper into the ATC size: 2.5″ x 3.5″. Students start by cutting a white 1.5″ x 4″ mailing label in half the long way, and apply to bottom of the card. The card is turned over and excess is trimmed.
2. A 1″ Avery mailing label sticker is used for the bottom circle. Two 3/4″ mailing labels stickers are used for the top two.
3. Students draw the snowman face arms and buttons with an Ultra Fine Point black Sharpie marker. They are encouraged to find a different pose for each card. The nose is colored with an orange marker and the hat is colored black.
4. Cards are kept in a 9 trading card plastic sleeve. Story telling would be another great use of this kind of layout.
Arts & Crafts
Kathy Barbro earned her B.F.A. at Minneapolis College of Arts & Design, enjoying a 20-year career in graphic design. When her son entered kindergarten, her career path took a turn. The local elementary school had no art program and that was all the inspiration she needed. Kathy served as a volunteer art docent for several years, later becoming the school's Professional Expert in Visual Arts. She teaches twenty K-5 classes weekly and conducts an after-school Art Enrichment program. Kathy pooled her talents to share her curriculum via the blogosphere. With 500 classroom-tested art projects posted, her Art Projects For Kids http://www.artprojectsforkids.org is a favored source of art lesson plans among teachers, home schoolers and parents.
Save
Save