Fun foods for a holiday.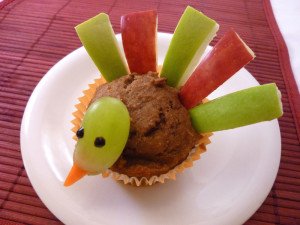 Ingredients
For a fun variation on a pumpkin muffin, turn yours into this cute little turkey. Best of all, the kids can help.
Kids can help: Each child can "make their own" turkey muffin.
What you need:
Pumpkin muffins
Red apple
Green apple
Sliver of carrot
Squeezable icing – eyes
Instructions
From each apple, cut a slice from the side of the apple. Set flat and cut squared-off, tapered feathers. Cut a small beak from a thin slice of carrot. Make a slit in the end of a green grape and dab off excess moisture. Insert beak into grape. Poke small ends of feathers into muffin and set head on muffin, resting on the muffin paper. Once assembled, add tiny "dot" eyes with icing.
https://ziggityzoom.com/turkey-pumpkin-muffin/
Copyright ZiggityZoom Living- Kristin Fitch
Save
Save