The hustle and bustle of the holidays is here. For many of us the frenzy has begun- decorating, shopping, wrapping, holiday and school parties, baking, and overly excited children.  It can make for a stressful time of year.  I love the holidays and everything that comes with it- the Christmas music, decorations, holiday treats, family time, and special memories.
I have found that sometimes as parents we get so wrapped up in checking off our to-do list during this time of year and making sure we get every last gift our child begged for, that we forget what this time of year is all about.  We forget that it is a special time of year that allows us to make lasting memories with our children through holiday traditions, whether old or new.
The other day I asked my oldest son who is 7 what he likes most about this time of year. I knew he would say the presents, which he did, but I asked him to tell me the other things he liked.  He told me he liked decorating the tree, reading Christmas stories, baking cookies and hearing Christmas music.  It was then that I realized the special things we do with our family each year, either for Christmas or Hanukkah will be remembered by our children for years to come.
This time of year is also a time to make sure the excitement of getting gifts does not reinforce a message of "me, me, me" with our kids.  In order to combat the uglier side of the holidays we do a few things in our house to reinforce the message of giving during the holiday season.  You may find these helpful:
1.  We attend Christmas service at our church.   We go regularly but the Christmas service is always a special service with the message of Jesus' birth, the importance of Christmas, the beautiful music and energy that is much more electric during this time of year.
2.  Give each child a short list of family members to either make something for or buy something small for.  (Often local churches have a kids sale and kids can go buy small items for a dollar or two) or let them go shopping with you and pick out small items for people on their list.  Explain to them, you may have to put something back if it is out of the price range.  This reinforces the message it is about giving.  We also bake cookies for friends and family. (explain giving does not have to cost money)
3. We buy clothing, food and gifts for families in need and deliver them to those families when we can or give them to a local organization that will deliver the gifts.  I have my kids help select and wrap the items.  We talk about the many people in need of food, clothing and items and how we can help. We participate through our church, the school, and charity organizations to give to those in need.
There is no better way to spend your time over the Holidays, thinking of others and it is a great time to involve kids in helping others and thinking of others. You could invite an elderly neighbor over or go for a visit, buy gifts for those in need, bring food to the food bank or food drive, or any other giving service or gesture. Just remember to give and show your kids that the spirit of the season is about giving to others hare with them about the gift you have given to someone in need.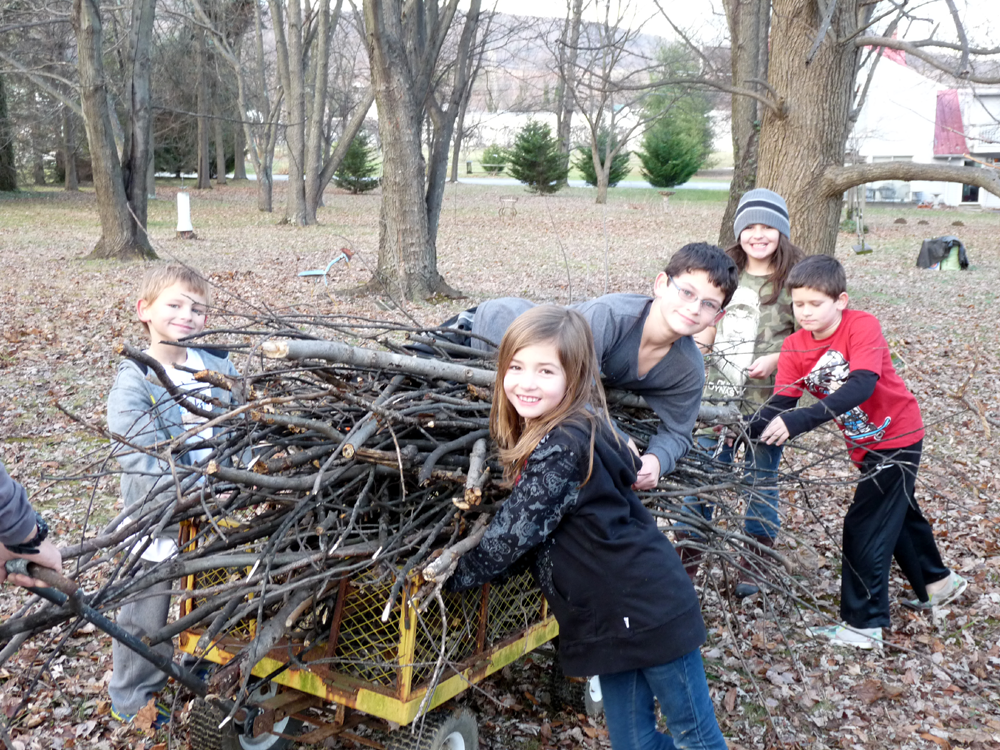 Or even help a senior in your neighborhood clean up their yard or  clean off the driveway and have your kids help.

4. We take turns opening gifts on Christmas.  Each family member opens 1 gift and then waits until everyone else has opened a gift before it is his or her turn again.  This allows everyone to see what the rest of the family received, it slows down the present frenzy, gets kids more excited about each gift, not just the biggest one, and teaches patience and respect.

We also encourage our kids to play with the toy or gift they are given before opening another gift.  It lets them appreciate each gift.  We try and give the big gift last, so that the other gifts are just as important for a bit before being over looked by the biggest or most desired gift.

5.  The night before Christmas each person is allowed to open one small gift from the family.  It is a nice tradition and again reinforces patience and appreciation for everything we get even pajamas!

6.  If you are Christian and celebrate Christmas, a great idea I have heard is that each person gets 3 gifts (can still do stocking stuffers, a family gift, etc…) for the number of gifts baby Jesus is given by the three wise-men.  Setting a realistic number of gifts helps families to focus on what is important during the holidays and keeps parents from going overboard.  I did not start this when my kids were little, but wish I had.  Or give kids 3 gifts from Santa or you all and the other can still do more if you want.

7. Another great idea is to give the gift of charity to someone you love.  Donate to Heifer.org, ChildFund.org, or WorldVision.org in the gift receiver's name and get a card and booklet to give to the person.

8.  This holiday season, consider letting your child help a family in need through one of the organizations that help children and families all around the world.  Organizations such as ChildFund, Heifer International and World Vision are all set up so you can choose what you would like to gift to a family and how much you will spend.  Options include giving livestock, to provide nourishment and income, educational materials, medical equipment, better homes and more.  Children can help choose chickens, goats or whatever you feel you can afford.  There are gifts for as little as $8 that will give family 10 chicks that will be a godsend to them.  And of course if you would like to help local families, check with your church or the Salvation Army or Angel Tree also collect and distribute gifts for families in need.

This is such a valuable teaching lesson that you can impart to your children.  Let them think about the giving versus the receiving this Christmas season.

If we emphasize beauty of  the entire holiday season by spending time as a family, baking, listening to Christmas or holiday music,  giving to others, and sharing special family traditions, our children will learn to appreciate the spirit of the season of giving more than receiving.   We allow our holidays to be overly commercialized and often go a bit overboard on the number of gifts we get our children.  And remember for many people they are alone at the holidays  so if you can invite a neighbor, military person, or someone else in your community to join you for dinner, church or another gathering you are embracing the real spirit of the season

I hope you have a Merry Christmas and find moments to spend quality time with your family, make lasting memories, and teach a few things along the way!  Each year I try to find more ways to incorporate more giving and focus on the real reason for Christmas the birth of baby Jesus.

"No One Has Ever Become Poor by Giving"


. No One Has Ever Become Poor by Giving- Anne Frank Click To Tweet

Kid Idea: Start a family conversation about giving to others, especially those in need and ask your kids who they would like to help (ex. family with kids, senoir neighbors, families in developing countries,etc) and try to find an organization to work with to do so). The more involved the kids are in the choices the more engaged they will be in helping.

By Kristin Fitch

edited 11/17/2015

Save

Save

Save

Save

Save

Save

Save

Save