Wondering what to make for dinner on Valentines Day?  Look no further.  We have the most romantic recipe for you.  Calzone is a favorite around our house anyway but these little calzone hearts are off the chart yummy and adorable!
Kids will have fun helping to make these cute calzone hearts for dinner.  Filled with mozzarella cheese, turkey pepperoni and marinara sauce, these are a sure hit.  Add in the marinara dipping sauce and you can't miss.
Kids can help:  Filling the dough and crimping edges.
Dough
Ingredients
1 pkg yeast
1 Tbsp sugar
1 cup warm water
1 tsp salt
3 Tbsp olive oil
1 ¾ cup white flour
1 ¼ cup whole wheat flour
Combine yeast, sugar and warm water and let set for 5 minutes.  Mix remaining ingredients and then add yeast mixture.  Let dough rise, in a warm place, for about 1-2 hours, until double in size.
Roll out a small portion of the dough at a time, cutting two equal sized hearts.  Fill middle with filling, thin layer marinara sauce, turkey pepperoni, cheese, and then crimp edges with a fork.  Set on baking tray.  Bake at 400 for 10-15 minutes until lightly browned.  Test to make sure dough is done baking.  Serve with marinara sauce for dipping.
Filling
Mozzarella cheese
Marinara sauce
Turkey pepperoni
By Kristin Fitch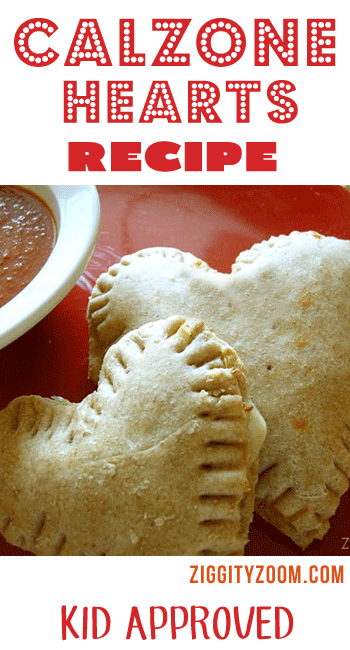 Save
Save
Save
Save