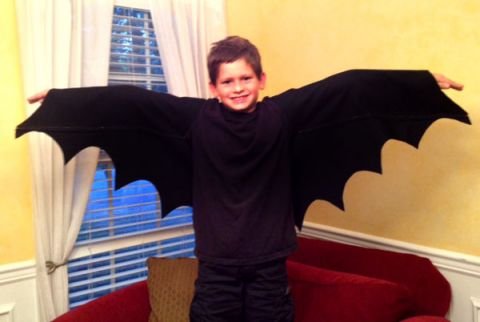 We are always searching for easy anything … recipes, crafts, costumes.  You name it and we will find easy.  Here is a darling set of bat wings that you can whip up in no time.  You can even make these no-sew if you use sticky back velcro.  All you really need is some black fabric.  Try to choose non-raveling fabric like felt or a jersey.  Actually jersey is a nice, soft fabric that will allow a lot of movement.  But use what you have.
These Bat Wings can be worn over any shirt but obviously black will be best.  Add a black mask or paint face with black face paint and you have a bat ready to roll for Halloween.
What You Need:
Black fabric (amount will depend on size of wearer)
Needle/Thread or Velcro
Scissors
White chalk for marking
Pins
What to do:
Have child or adult spread their arms out to the sides and measure the distance from thumb to thumb.  This will be the width of your wings.
Measure the distance from shoulder to shoulder, then subtract about 4 inches to allow the wings to rest on the edges of the shoulders once arms are inserted. (this measurement will give you a guide when you cut away the neck opening)
Third measurement is an estimate.  Measure around the fattest part of the arm, loosely, as you do not want the arm openings too tight.
Measure from the nape of the neck to the waist.  (add this to the arm measurement to determine you length of fabric.)
Now, cut a piece of fabric to your length and width measurements.  Fold fabric in half (wing tip to wing tip).
Make a mark at point A, which is the nape of the neck (distance down from there to bottom will be one of your measurements).  Make a mark at point B, which will be your shoulder measurement (divided in half since the fabric is folded).  Now draw and cut an arc to allow for neck and folding over of arm sections, as shown.
Referring to photos, use chalk to draw curved bat edges. (Be sure to note your measurement for arm thickness, as this area from C to D will be folded over in the next step.
Now unfold the bat wings and then fold over the arm sections as shown.  Pin in place and then stitch by hand or machine.  For no-sew just cut lengths of sticky back velcro and adhere.  Your bat is ready to fly!