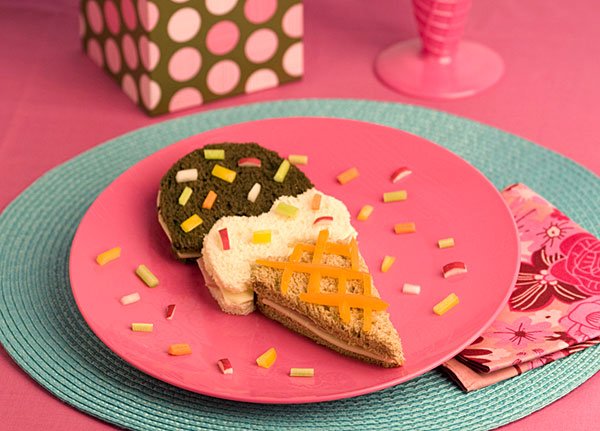 We love the festive look of this sandwich and who doesn't love ice cream? So cute that it's hard to believe it's a sandwich. Make a single dip or a double dip ice cream cone sandwich. This is a really fun and festive sandwich that can be made for most any occasion. A great birthday party sandwich or a "just-for-Fun" lunch treat.
For the Double Dip Ice Cream Cone:
1 slice white bread
1 slice pumpernickel bread
1 slice whole wheat bread
Snippets of colored veggies
Carrot
Sandwich filling
Remove crusts from all bread and then cut each slice of bread in half. Fold like pieces of bread together. Cut a large triangular shape for the cone from the whole wheat bread. Cut an ice cream "dip" from white bread, as shown with a drippy bottom. You will need to cut the top of the "cone" to the shape of your white Dip, just cutting away a tiny amount so the fit is good. Cut a second Dip from the pumpernickel in the same manner. Adjust the top of the white dip to fit the bottom of the dark Dip, as shown. All pieces should align nicely.
ADVERTISING
Fill all sandwich pieces with desired filling and set in place on the plate. Cut thin strips of carrot to form the cross hatching on the cone. Cut pieces to fit. Now cut little snippets of different colored veggies to make "sprinkles" to add to the top of the ice cream. We used radish, celery, yellow pepper and orange pepper. Use whatever veggies you have on hand. Finish by garnishing the plate with extra little sprinkles.
For more Kids party foods
Sharon Pierce McCullough
Save
Save