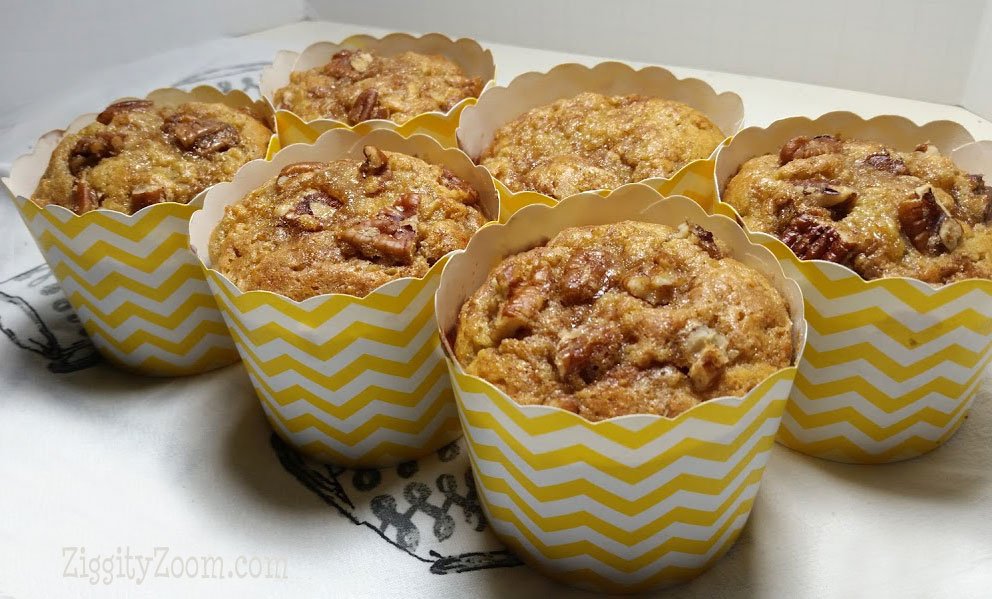 It was a muffin kind of day today.  The sky has been dreary and there is a steady rain.  And … there were three overly ripe bananas setting on the kitchen counter.  Wallah,  it was the perfect time to make some of our favorite muffins.  Of all the muffin recipes I have tried over the years, this is still my family's favorite.  We make these with all purpose flour but many times substitute gluten free flours.  Our favorite muffins are made with a mixture of almond flour and basic gluten free flour mix.
If you've ever made banana muffins, you know that the riper the bananas, the tastier and more flavorful the muffins.  Sometimes if I don't have time at the moment, I will peel three very ripe bananas and stick them in a plastic bag in the freezer.
Muffins are great for breakfast, brunch or a healthy afternoon snack.  Although this recipe only calls for bananas, you could also add nuts or flaxseed.  As I mentioned, this banana muffin recipe is an all time favorite in our house.  So much so that we often hope for overly ripe bananas quite often!  The kids love these and so do the adults.
Ingredients:
1/2 cup shortening
1 cup brown sugar
1 tsp vanilla
2 large eggs
3 ripe Bananas
1 1/2 cup all-purpose flour
1 tsp baking soda
1/2 tsp salt
Blend the shortening, brown sugar and vanilla. We use butter or olive oil for best results.  Then add the two eggs, beating well.  Blend in the mashed bananas.  Add flour, soda and salt.  Mix well.  Pour into muffin tins lined with  cupcake liners.  Bake in 350 degree oven for 20- 25 minutes depending on your oven temperature.  Muffins should be slightly brown.  Makes about 12 muffins.  Yum.
Food is meant to be shared.
Save