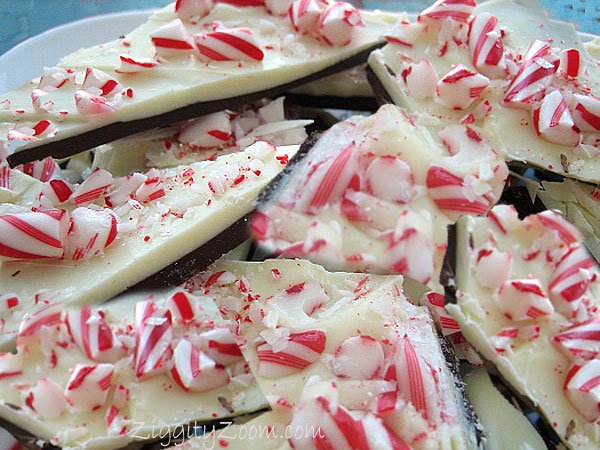 One of my favorite food combinations is chocolate and peppermint.  Yum.  Truthfully, I can't wait to make this again … our test batch was quickly devoured by our tasters!  But seriously, this is a fun and easy treat to make for all your holiday parties and to even box up and give as teacher gifts.  Let the kids help so they can tell their teachers that they helped to make the goodies.
If you too like peppermint candy canes and chocolate, then this recipe is definitely for you.  It's perfect to serve for parties during the holiday season and it's one of our favorite holiday treats.  This Peppermint Bark combines a mixture of both white chocolate and dark chocolate.  This is a really easy recipe that we wanted to share with you.  It's perfect for Holiday gift-giving. Yum!
Peppermint Bark
1 lb. dark chocolate
1 lb. white chocolate
Candy canes, crushed
1. Melt dark chocolate over a double boiler until smooth. Spread,evenly, on a wax paper-lined baking sheet. Place baking sheet in freezer to harden chocolate, approximately 30 minutes.
2. Melt the white chocolate over a double boiler until smooth. Spread on top of the dark chocolate layer. Immediately sprinkle the crushed candy canes on top and gently press into the chocolate. Refrigerate until completely hardened and set.  This normally takes at least 2 hours.  Break apark into nice size pieces for serving or gift-giving.  Yummy.