Minecraft Party Ideas
Whether you have Minecraft crazy kids or not, this is a fun party to put on.  This party was planned for two birthday boys and about 12 of their friends … and what a blast they had!  It was an evening and overnight party for a bunch of nine and eleven year olds.
The main character of the Minecraft computer game and app is a guy called the Creeper.  He's … you guessed it … green, with black Pixel type eyes and mouth.  So everything for the party basically revolved around the Creeper.  You can use just a few of these ideas to plan your party or use them all and even think up a few more to customize your Minecraft party.  We should mention that one of the spur of the moment ideas for a Minecraft game … utilizing a few green and gray balls from the dollar store … turned out to be the hit of the party.
Minecraft Party Ideas:
Creeper Party Cups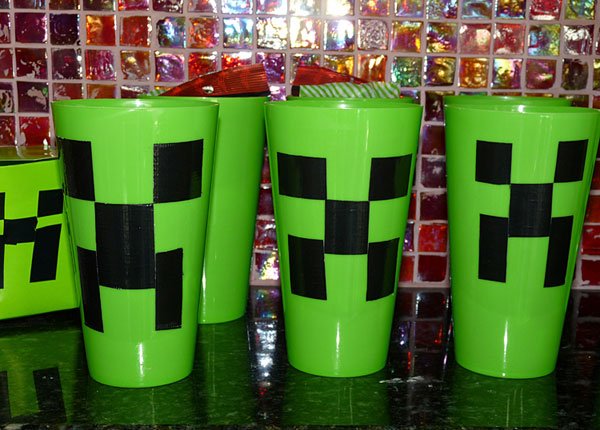 You can decorate your green party ware using squares of black duct tape.  We added the creeper face to green cups and plastic containers to help create a real creeper ambience.  A trick to cutting perfect duct tape squares is to tape strips of black duct tape onto waxed paper first and then cut out the squares.  This works perfectly and then is no ragged edges this way.
Minecraft Party Foods
To make a Minecraft theme cake, you can just bake a square, one or two layer, cake and decorate with green icing.  Make a creeper face with black icing.  For drinks, serve green kool aid or flavored waters.  And, of course, you will want to have green napkins and balloons to complete the Minecraft party theme look.
Minecraft Dodge Ball
Yes, this was the hit activity of the party.  Who knew?  The boys played dodge ball with the balls decorated with creepr faces.  Once again, you will decorate the balls with black duct tape.  It's easy and the kids love the idea.
Knock It Down Creeper game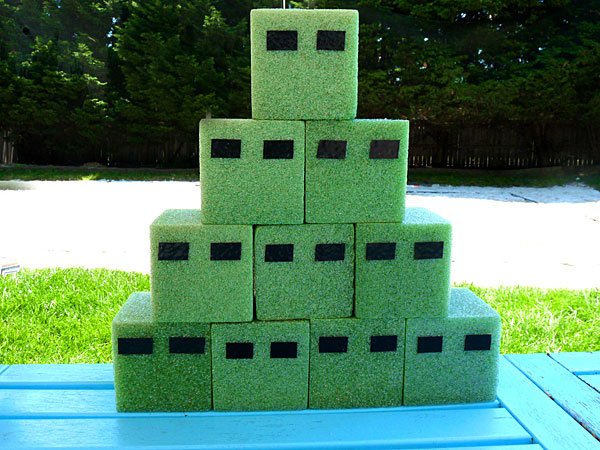 This game involves shooting a stack of creeper boxes or squares with a soft bow and arrow.  Our squares, once again purchased at the Dollar store, are styrene floral squares with black duct tape creeper face applied.  The bow and arrow used to shoot at the target is a Zing Air Z Curve Bow.  Kids "build" the stack and try to shoot it to the ground.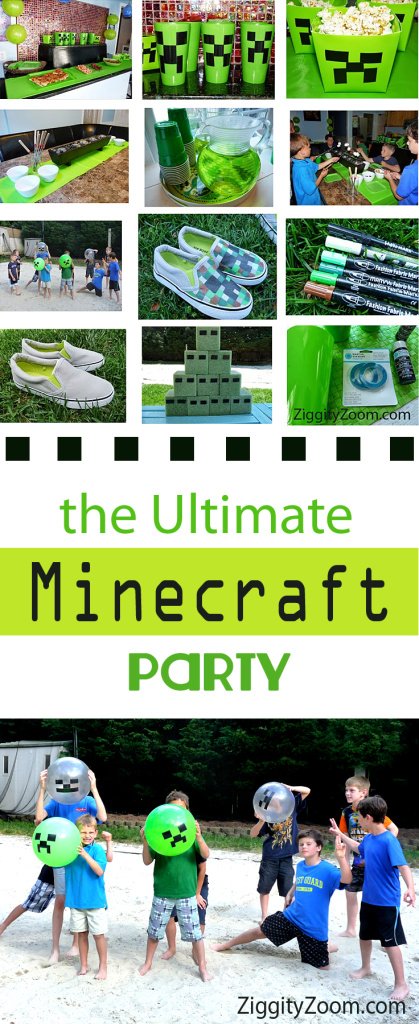 Save
Save
Save
Save
Save