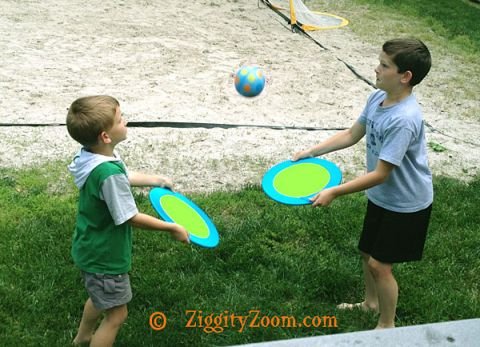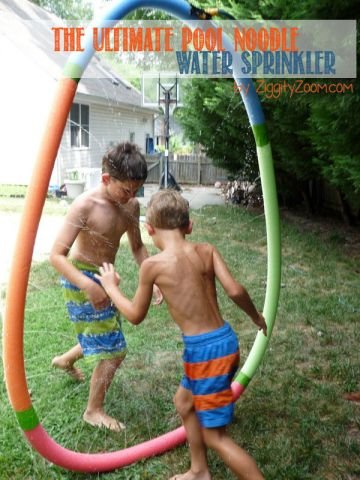 Guessing we have all heard "I'm bored" one too many times.  Kids don't need a bunch of things to do that cost any money … you can find things for them to do any day of the week with things you usually have around.  Whether you are searching for fun summer craft and activity ideas for kids to do at home or to do at camp, these ideas will spur you on.
When kids come to our house in the summer, the first words out of their mouths is usually "What are we going to make?"  Making things, collecting things, playing outdoor games is a part of childhood that kids treasure and remember.  It's what makes summer special.
Sidewalk Chalk
Kids can have hours of fun playing with chalk on a sidewalk or driveway.  Sometimes you might need to suggest drawing hopscotch or a zoo full of animals, but once they get going they won't want to stop.  An extension of playing with chalk is making your own chalk which is another fun activity for the kids.  You can find the recipe for making sidewalk chalk here along with some other fun craft recipes.
Blow Bubbles
Always keep bubble liquid on hand for some spur of the moment fun.  We especially love making our own solution to make giant bubbles.  It always seems so magical when you blow a fantastically giant bubble … so you can imagine how fun it is for the kids.  Make your own bubble solution for giant bubble blowing.
Water Sprinkler
In case you haven't tried our most popular summer idea, you really have to try this water sprinkler made from a $1 pool noodle.  You can get the pool noodles from the dollar store.  Just hook these up to the end of a hose and either hang from a swing set or pole or just lay down in the grass.
Scavenger Hunts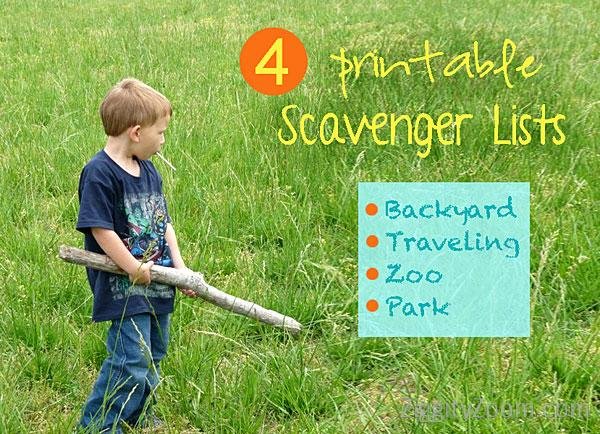 You can make up little scavenger hunt lists for all sorts of things.  In fact, you can gather 10 items from around your house or camp and then hide the items.  Give the kids the list and let them mark off the items as they find them.  We also have a few ready to print Scavenger Hunt lists to get you started.
Make Ice Cream
This yummy ice cream in a bag recipe can be made in 5 minutes.  There are few ingredients that you need and no strange ones at that.
Rock Painting
This can be a two part activity, making the collecting of special rocks the first activity.  We like to take the kids to a nearby park or stream and go rock hunting.  If you have a special theme for what types of rocks  you will be painting, then the kids can look for those types of shapes.  For example, when we paint families, then we look for rocks that might have a head and body shape.  It's fun just searching for rocks and sometimes the rock collecting can be the only activity.  We also like to collect small twigs to paint for other days.
Duct Tape Crafts
Believe it or not, you can make almost anything with duct tape.  The kids have made duct tape bracelets, duct tape purses and duct tape wallets.  People have even crafted duct tape dresses.  So, your imagination and creativity is your only limit and, as you know, kids can be quite creative.
Learn a New Game
There are so many fun games that kids can play outside and if you don't know many, just do a google search for fun outdoor games and their rules.  Two fun games that we have come across that are real winners are the Turtle Hop Chalk Game which can be played similar to hopscotch but with a twist … and Octopus Tag.
Photo Fun
Give a kid a camera and you will be amazed.  Kids are actually great little photographers.  Have a Photo Opp day and then compare all the kids photos, choosing the very best ones to print.  You can get disposable cameras for a special day that you do this activity, or use this as a fun party idea.  If kid shave their own devices encourage them to use them to get some good photos.  Kids are so creative and many times their perspective is much different from what we might photograph or the angle we might choose.  Also, when you print the photos, if you want to add another fun aspect to this activity … let the kids think up captions for their photos and you can add them in a photo editing program.  Just add or draw a bubble to place text into the area.
Bubble Wrap Art
Save those pieces of bubble wrap that come in boxes.  Not only are they fun to pop but kids can make some fun and whimsical pieces of art.  Making bubble wrap art is easy and fun and any child can make it.  It's a fun art that can be done on the outside picnic table so the kids get to be outside.  In fact, we try to encourage doing crafts and art outside in the summer … it's sort of like going to camp.
Sharon Pierce McCullough