My kids love bite sized food … and so do I!  These little fish bites are perfect for your kids or even an adult gathering.  Make these fun and colorful Carribean-inspired, coconut dipped fish bites and pineapple salad.  Talk about adding fun and a touch of love to your family's meal!
Ingredients:
Macaroni & Cheese Muffin Cups Recipe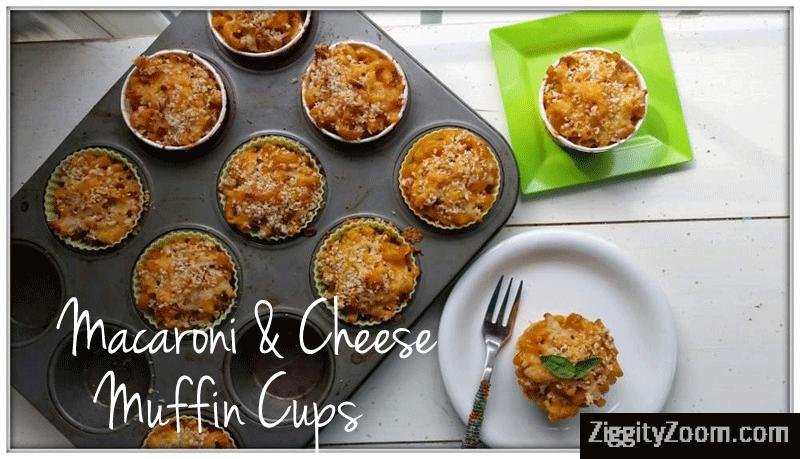 Ingredients
elbow macaroni- 1 small box
1 Tbsp. butter
1 1/2 cup cheddar cheese
1 1/2 cup mozarella cheese
1 cup milk
1/2 cup bread crumbs
1 egg
Instructions
Preheat oven to 350 degrees. Line muffin tin with cupcake liners.
Fill a large pot with water and add salt and bring water to a boil. Once the water is boiling add the pasta and follow directions to cook approximately 8 minutes. Once cooked, remove the pan from heat and drain the water from the pasta.
Add butter and the egg to the pasta and stir to combine. Set aside 1/2 cup cheddar cheese for topping, then add the cheeses and milk to pasta and mix until combined. Scoop the pasta mixture into the cupcake liners to fill. Add the bread crumb/ cheese mixture on top and bake for 20-25 minutes.
https://ziggityzoom.com/caribbean_coconut_fish_bites/
Copyright ZiggityZoom Living- Kristin Fitch
[bpiq style = "balloon" width="50%" position="center" color=white" textcolor="purple" image="https://ziggityzoom.com/wp-content/uploads/2015/06/P1320284-1140×660.jpg" alt="Dinnertime- Fish Bites- Be Thankful" sourcename="ZiggityZoom.com" source="https://ziggityzoom.com" author=""]
Dinnertime is a good time to remind kids to be thankful for blessings large and small.[/bpiq]
Save