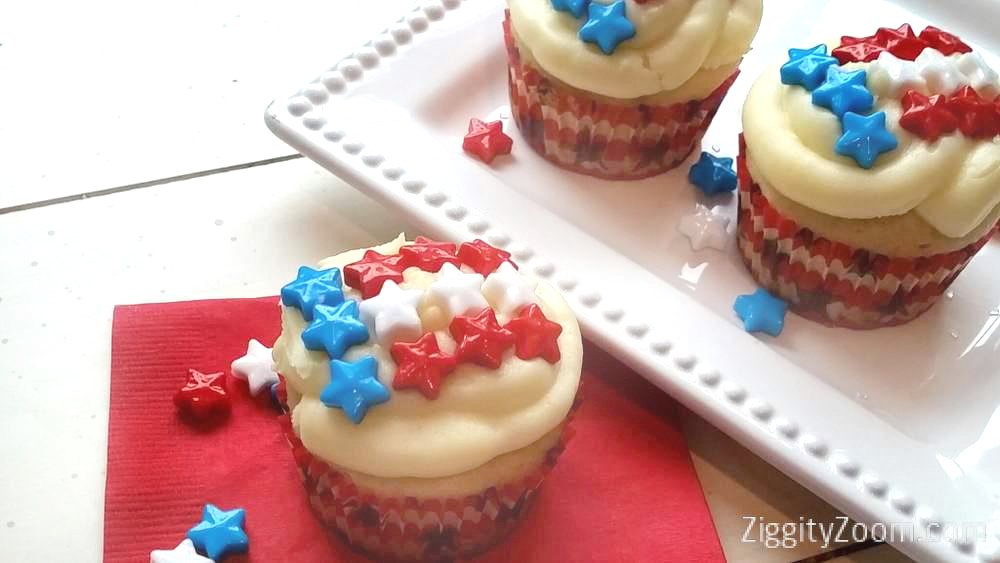 I love the 4th of July! Yes, we celebrate our Independence on that day, but more than being a national holiday it is a day that family and friends celebrate getting together. Since the holiday is in July, it's the perfect time for cookouts and outdoor gatherings. I love the food and themes that go along with the 4th. And I appreciate that your gathering can be as simple as a basic cookout or you can go over the top with fun red, white and blue decorations and foods to continue the 4th theme.
Whether you are a hostess extraordinaire or like to stick to the basics, you can make a patriotic dish.
Here we made cupcakes, then iced the cupcakes and just added these fun candy stars of red, white and blue to the tops of the cupcakes. Super easy but oh so fun. We found the star candies at TJ Maxx and the candies are from Williams Bennet. If you cannot find star candies at a candy store you can choose from many red, white and blue candies on Amazon. Here is one example of patriotic candy we found on Amazon.

To make these patriotic cupcakes, start by making your favorite cupcakes. We used a basic white cupcake mix and baked them in patriotic cupcake liners. Once the cupcakes were completely cool, we iced the cupcakes using a basic butter icing (confectioner's sugar, vanilla, butter, milk) in a pastry bag with round tip. After icing the cupcakes, we added the star candies to finish off these fun cupcakes. We found the star cupcake liners on Amazon and also at the Dollar Store.

What is your favorite patriotic dish or dessert to make for the 4th? We want to hear from you.
By Kristin P. Fitch
Save
Save