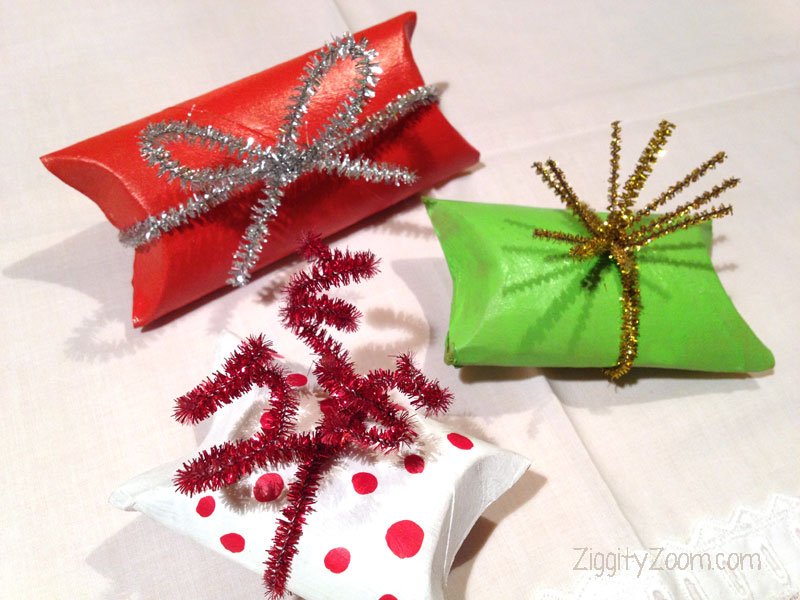 Often I am in need of just a tiny gift box.  If you're like me, I can never find a small little gift box when I need one.  And I have spent many an hour searching for one.  So the other day when I was trying to find a little box, I decided to just make one.  These adorable little boxes can be made in minutes.  And best of all?  You can make them from recycled cardboard paper towel tubes.
Previously I had tried to save little jewelry boxes but sometimes I really want the package to be a bit more creative.  Enter the little paper tube boxes.  We had so much fun creating these and they really do only take a few minutes to make.
You can either paint your little boxes or glue some paper or stickers to the fronts.  Add a bit of glitter or draw a little image.  You can even leave the "cardboard look" of the tube and just add ribbon or tie with pipe cleaners.
These are the perfect little giftboxes for earrings, a necklace or any small treasure. This is a great little box that even kids can make for tiny Christmas presents.
What You Need:
Paper tube
Scissors
Paint or paper /glue
Ribbon/ pipe cleaner
What to Do:
Gently press down on the tube so it is almost flat, but try not to smash to edges. Cut tube into desired length.  Ours vary from 3.5 to 5 inches long.
Press one side of end toward the center, as shown.  then press the opposite side down, which will make a closure.  Repeat with other end.  You now have a little box.
If painting, paint all outside surfaces and let dry thoroughly.
If decorating with paper, just glue a strip around the center area or do a small drawing or even little patterns, making stars, circles or whatever.
Once you have put your small gift into the box, wrapped in a bit of tissue paper, close the end.
Tie with a glittery pipe cleaner or a ribbon.  If you are not tying around the "ends" then add a tiny piece of clear tape to secure the package.
Copyright 2014  Sharon Pierce McCullough for ZiggityZoom.com
Save
Save