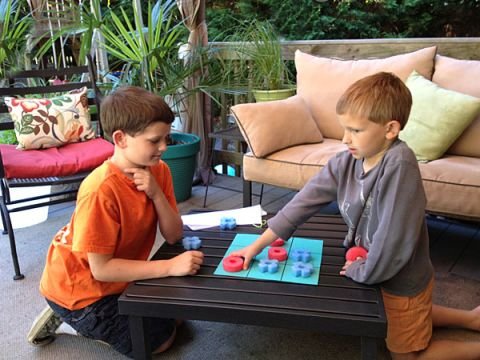 Who doesn't love Tic Tac Toe?  It's a real tradition for any kid growing up and a fun game that can be played between children and parents.  And, it's a game kids can actually win and feel good about their success.
We made ours using two Dollar store pool noodles.  The playing mat is made from a piece of craft foam.  Make it a take-along game by purchasing, or making, a little mesh drawstring bag to hold the parts.  Ours was also obtained from the Dollar store.
What You Need:
2 Pool Noodles (2 colors)
Craft foam sheet, 11.5×11.5″
Mesh bag (optional)
Marker
Sharp knife
What to Do:
Cut 5 slices from each color noodle, approximately 3/8 inches wide. Use a sharp knife and saw through the noodle.  This is very easy to do.
For the "X" shapes, cut away a small "v" shape from each "corner" so to speak, equidistant from each other.
Cut the foam sheet to size and then draw two horizontal lines and 2 vertical lines, equally sized, to make your playing area.
That's all there is to it … now just have fun.
by Kristin Fitch and Sharon Pierce McCullough