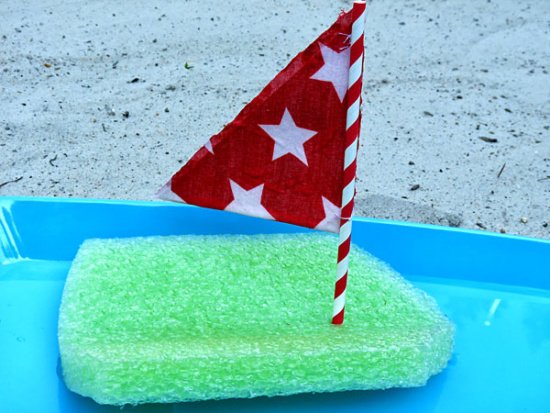 Sail, sail away.  This little sailboat is sure to please any little girl or boy for hours of fun and play.  It's an easy summer craft project that the kids can even help make.
We made our sail from a starry red fabric that was actually a scarf from the Dollar Store.  So, if the sailboat will be for a little girl, just get a pretty fabric in the color of her choice.  Use scrap fabric or a scarf or napkin from the Dollar store.  We make good use of our Dollar store for many of our projects … and no, we don't have any affiliation with them.  We just love a good buy.  We also made use of a $1 foam kickboard for our sailboat base.
What You Need:
Fabric, 5.5″x5.5″
Foam kickboard
Straw or stick
Cardstock or cardboard
Glue
Scissors
Thread or wire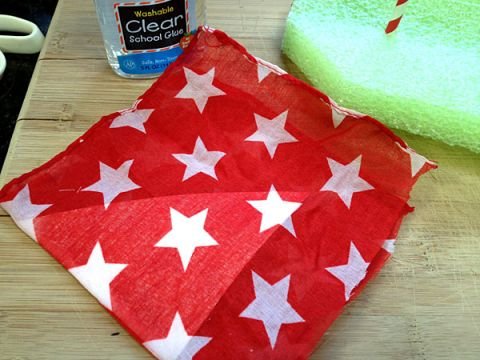 What to Do:
Cut a piece of cardstock/cardboard into a triangle that is 5 inches high and 4.5 inches wide at the base.
Fold fabric swatch in half and insert the triangle.  Put glue on both sides of the triangle and press down on fabric.  Let dry.
Cut out the triangle sail, leaving a slight edge of fabric beyond the paper triangle.  Set aside.
From your foam piece, cut an 8.5 inch by 6 inch piece, trimming away sections from the front of your boat, as shown.
Attach a straw or stick to the sail, using wire or string.
Insert straw/string into the top of the sailboat, toward the front end.  Do not push the straw through the bottom.
This is a sturdy little boat that can be played with outdoors in a tub of water or used at bath time.
by Sharon Pierce McCullough