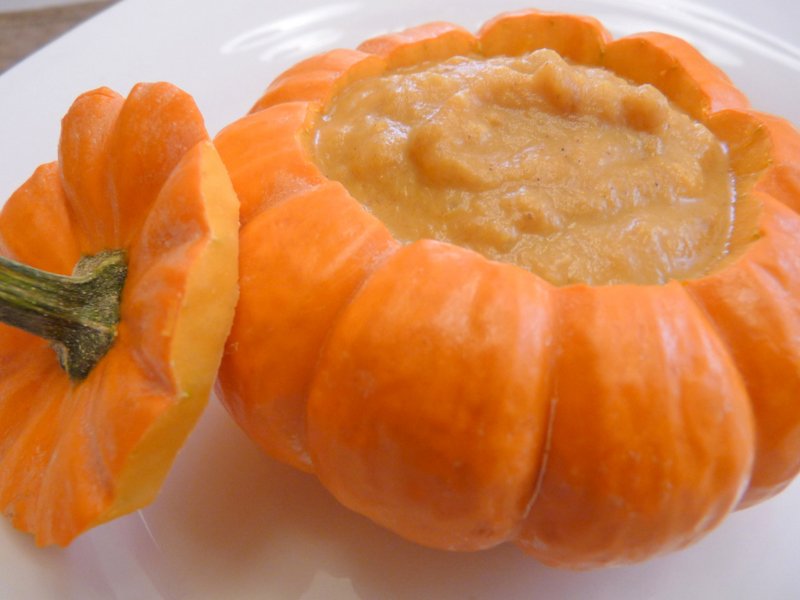 Nothing says Fall to me than seeing pumpkins decorating the house and porch and the taste of pumpkin spice everything.  We love Thanksgiving because it's celebrates everything we love- spending time with family, and home cooked meals and slower days enjoyed together.  Those days are never often enough and we get excited every year in anticipation for Thanksgiving and all those delicious dishes.
Kids will love having their soup served in their own individual little pumpkin. This is a tasty, nutritious soup that provides a good source of fiber and Vitamin A. We love the addition of finely minced apple in our tasty Pumpkin soup.
Kids can help: Scoop the seeds from the pumpkins.
What you need:
1 Mini pumpkin per person
1 15 oz. Can pumpkin
1 ½ Cup chicken broth
½ Cup whipping cream
1/8 Cup apple juice
¼ Cup finely-diced white onion
1 Garlic clove, finely-diced
1 Tsp. olive oil
1 Finely-diced apple
½ Tsp. cinnamon
Dash of salt
2 Tbsp. Maple syrup
Saute onion and garlic in olive oil. Mix all ingredients, fold into pan and cook on medium heat for approximately 15 minutes. Puree with a hand blender or food processor, then cook for an additional 15 minutes on low heat. Serve in pumpkins.
Prepare pumpkins by, carefully, cutting the top from each pumpkin. Scoop insides from pumpkin.
* Garlic and onion may be omitted if you have a really "picky" eater.
By the FoodChics … Kristin Fitch & Sharon Pierce McCullough
Save