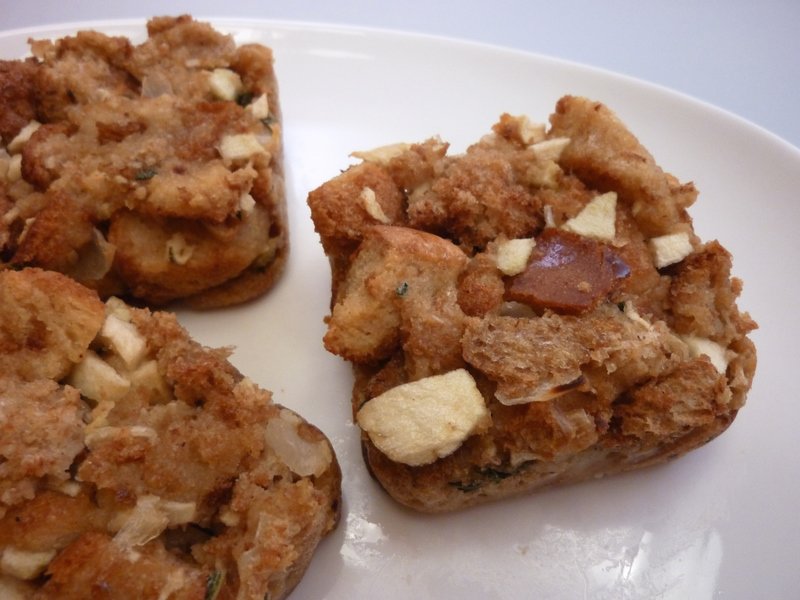 This is a perfect way to serve up stuffing to kids  or even adults, whether it's for Thanksgiving, a special meal or a regular week night- foods cooked in muffin tins are just so much cuter.  And hey we love stuffing so they are going to go fast.
If you have a favorite stuffing recipe you can also follow your recipe and bake them in muffin tips.  The only tip would be to make sure the stuffing has some moisture and an ingredient to hold them together (ex. egg) but that they aren't too wet to stay together.  Otherwise most any stuffing recipe should bake up nicely in the muffin tins.
We also love the stuffing muffin cups for left over stuffing because you can just pop one out to eat with a meal or freeze them in individual portion sizes.
Stuffing Muffins Recipe for Thanksgiving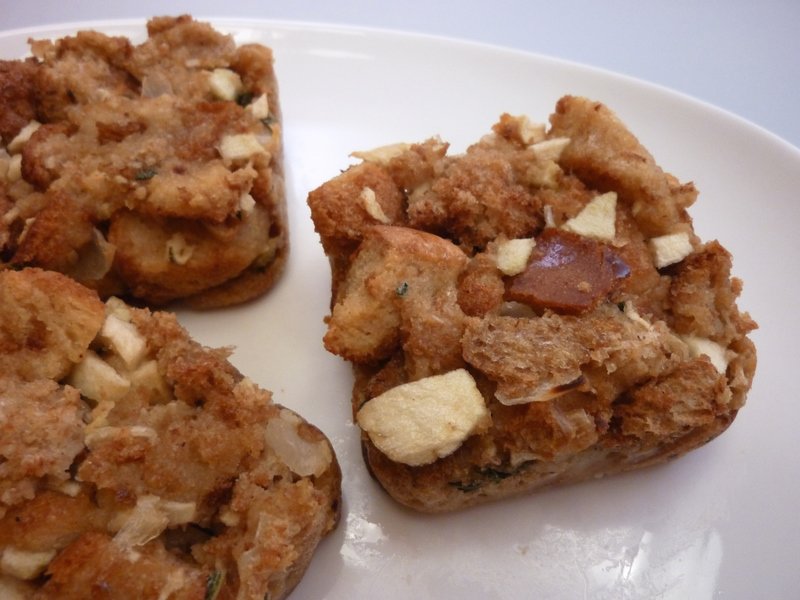 Ingredients
These mini muffins are great to serve any time of the year but they are a special treat we like to serve at Thnksgiving dinner. These kid-friendly muffins combine the tradition of stuffing with a fun apple twist. Made into muffins, even the pickiest eater will try this yummy stuffing.
Kids can help: Stir ingredients and press into muffin tins.
What You Need:
6 Cups bread cubes (Premade or Directions here)
1 Cup diced apple
1/3 Cup finely-diced onion
½ Tsp. minced sage
½ Tsp. fresh thyme
Dash of cinnamon
¼ Cup apple juice
1 ¼ Cup chicken broth
Maple syrup
Instructions
Saute onion. Add apple, sage and cinnamon. Mix all ingredients and then spray muffin tin with olive oil. Press gently into muffin tins. Drizzle lightly with maple syrup. Bake at 350 for approximately 30 minutes. Serves 10.
Making Bread Cubes
4 Slices whole wheat bread
4 Slices oatmeal bread
Cut bread into cubes. Arrange on baking sheet. Spray with olive oil cooking spray or drizzle, lightly, with olive oil. Broil, on low, for about 1 minute on each side.
By Kristin Fitch & Sharon Pierce McCullough, ZiggityZoom
https://ziggityzoom.com/stuffing-muffin-cup-recipe-great-thanksgiving-side-dish/
Copyright ZiggityZoom Living- Kristin Fitch
Save
Save
Save
Save