It's snowman season and who doesn't love a snowman? We live in Virginia near the coast where it rarely snows.  Some years we don't even get snow at all.  So anytime we see snow, or talk about snow or building snowmen we get pretty excited.  For us, it's a big deal and a special treat to get to play in snow.  We have a fun snowman activity your kids can do anytime they want to play with a snowman.
Now, with our two ingredient recipe for making a snowman, the kids can make a snowman any time of the year.  So, it doesn't matter if you live in a sunny and hot locale, now you can make a snowman too.  It just takes two staple ingredients and … wallah … you can make snow anytime!  Got a midnight urge to build a snowman?  No problem.
All you will need is cornstarch and vegetable oil.  You could use baby oil if you want a pure white snowman, but it would probably be a bit more expensive. We were so tickled when our snow actually felt like snow and the snowball crunched together just like when we make an outdoor snowman with real snow.  This recipe is that good!
Since this snow is made using oil, it will not dry out and you can reuse if desired.  We put some of our excess snowballs in plastic bags for future fun.
What you will Need:
4 -1 lb.boxes of cornstarch
3.5 cups of vegetable oil
large bowl
large spoon
twigs for arms
gravel for eyes, etc.
carrot piece for nose
ribbon for scarf (optional)
What to Do:
Slowly pour the cornstarch into the large bowl.  Add about 2 cups of oil and mix slowly with a spoon.  Add remaining oil and blend, then mix with hands to get a well-blended mixture.
Make three different size snowballs by compressing the "snow" in your two hands.  It sort of crunches together.  You can get two medium snowmen from this mixture, plus a little bit of extra snow left over for a display if desired.
Press the medium ball onto the top of the largest snowball, then add the small snowball for the head.
For eyes, mouth, etc.  just press the pieces of gravel into the snow.  It works just like a real snowman!
** Wash hands well with soap and water after playing in the snow … since it has oil, you don't want oily little fingerprints around the house.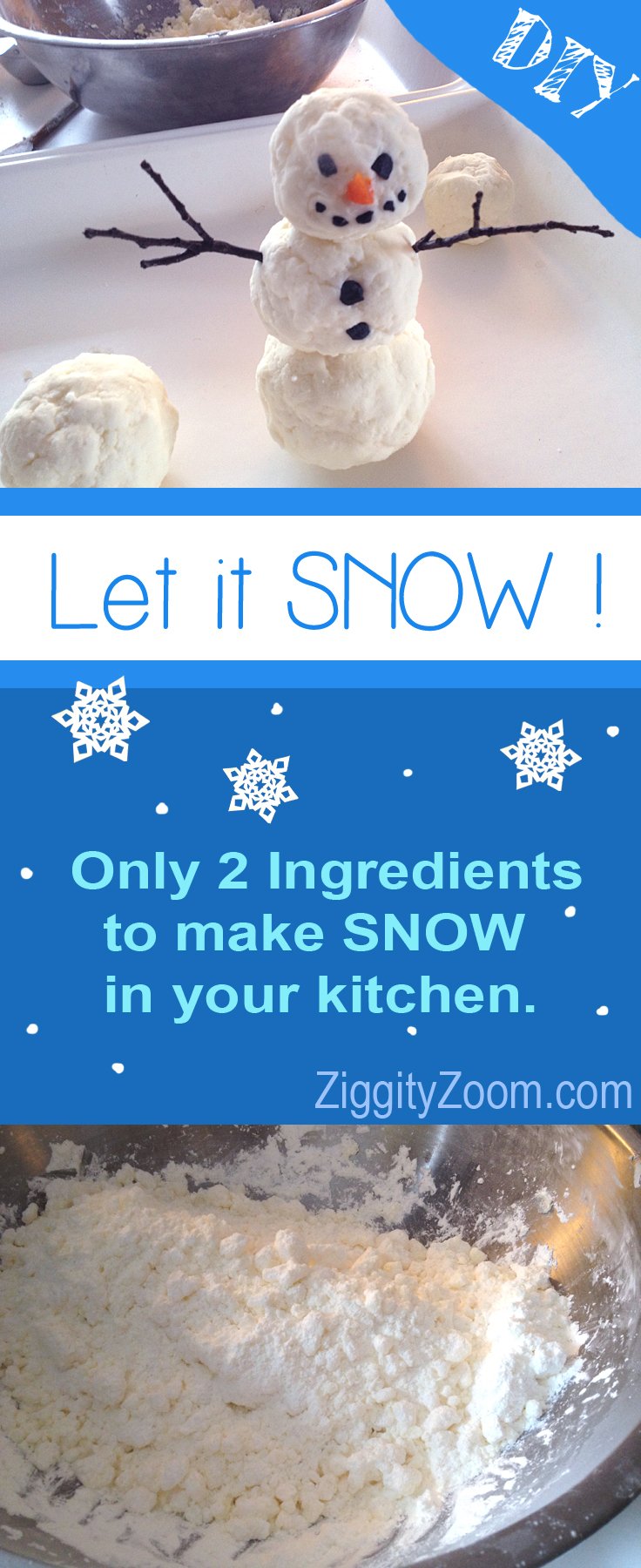 Copyright 2014 Sharon Pierce McCullough for ZiggityZoom.
Save
Save
Save
Save
Save
Save