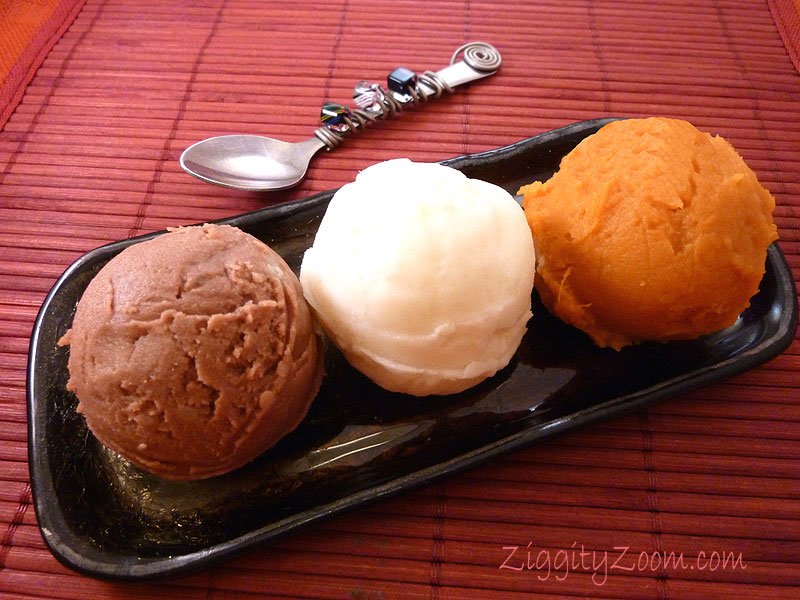 Our family loves chocolate in most any form.  But I'll have to admit, we weren't quite sure if the kids would go for chocolate mashed potatoes.  But … they were an instant hit.  We now like to make these for special occasions, birthdays, parties and Thanksgiving dinner.  We served our mashed potato trio to look like scoops of ice cream … how fun is that?
If you haven't noticed yet … we do like to have fun here at ZiggityZoom!  And we have a ton of fun creating recipes that kids will love.  One of our favorite recipes, and a kid tester fave, is the chocolate mashed potatoes.  This is a fun spin on a very traditional food that many families serve for Thanksgiving dinner or during the holidays.
For variety, we also made mashed sweet potatoes and plain white mashed potatoes to serve as three options,  it might sound like a lot of trouble but it isn't.  We actually just made white potatoes, mashed and then divided those into two bowls, giving us both the plain and the chocolate, once the cocoa powder was mixed in.
What you need:
Sweet potatoes
     3 medium sweet potatoes
     2 Tbsp. creamer
     2 Tbsp. maple syrup
     1 Tbsp. brown sugar
     ½ Tsp. vanilla
Red or white potatoes
     6 Red potatoes or 3 medium white potatoes
     3 Tbsp. milk
     2 Tbsp. sour cream or plain Greek yogurt
     Sea salt to taste
Chocolate flavored potatoes
     White potatoes (use a scoop of the above white mashed potatoes)
     1 Tbsp. milk
     1 Tsp. Hot chocolate mix
For each variation, peel and cube potatoes.  Boil in water, until tender, about 20 minutes.  Add ingredients as listed for each flavor and mix.  Remember when mashing potatoes, that you need a thick enough consistency to "scoop".  Scoops can be formed with an ice cream scoop for a serving dish or for individual servings use a melon scoop.
For additional Thanksgiving recipes, check out our Turkey Muffin and Turkey salad.
By Sharon Pierce McCullough and Kristin Fitch