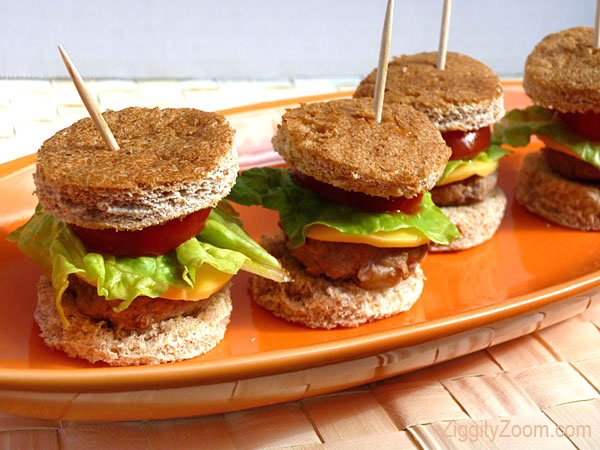 Here are 5 easy and fun recipes to serve your kids or friends that are the perfect size for sharing.  Similar to tapas, these mini-bites are great foods for entertaining, parties or summer picnics.
Mini Crabcakes
These mini cakes can be made with crab or salmon.  Our family likes them equally and they make into a quick summer meal.  Our favorite topping is either honey dijon dressing or our own quick topping made from dijon mustard, honey and plain greek yogurt.  For the full Mini Crabcake recipe.
Tomato & Mozzarella
Light and healthy bites combine tomato, mozzarella, fresh basil and a sprinkling of balsamic vinegarette and olive oil.  It's a quick and easy dish that can be used as an appetizer or a small side salad. Just make layers of fresh sliced tomatoes, a basil leaf, a slice of fresh mozzarella and then lightly sprinkle some olive oil and balsamic vinegarette.
Mini Turkey Burgers
These tiny bite-size burgers are one of our most popular summer foods.  The kids and adults love these little burgers.  Set up a little burger bar with plates of the burgers, pre-cut "rolls" and all the condiments.  It's a great party idea to let kids or guests make their own creations.  For the full recipe Mini Turkey Burgers
Stuffed Potatoes
A fun twist on a finger food, the kids love these little stuffed potatoes that they can pick up in their hands.  Choose small potatoes to bake, which should take about 45 minutes to bake in a 350 degree oven.  Let the potatoes cool and then cut in half lengthwise.  Fill with the mixture below and then place them on a baking sheet.
Ingredients:
8 Small potatoes of choice
2 Tbsp. Sour cream
3 Tbsp soft butter
1/4 cup diced chives
1 8 oz. pkg. cream cheese
1/2 cup bread crumbs
Salt and pepper
What to do:
Wash and bake potatoes.  Bake in oven at 350 for 45 minutes.  For crispy skins bake at 450.
Remove potatoes from oven and let cool slightly.
Cut potatoes in half lengthwise.  Scoop out half of each side of potato.
Mix potato and all ingredients.  Fill potato halves and then put the two halves together.
Bake in oven for about 20 minutes at 425.
Turkey Bites
These little Turkey bites pack a little "zing" and are perfect as an appetizer.  They are a great backyard party food.
Ingredients:
1 lb ground turkey
1 ½ tsp Dijon mustard
2 tbsp pineapple tidbits
¼ cup finely diced apple
1 tbsp grape jelly
1/8 tsp chili powder
Dash of salt
Dash of pepper
Dash of smoked paprika
Spice Mix:
Ground pepper
Salt
Garlic
Smoked paprika
Cumin
Coriander
Chili powder
Cayenne pepper
Garnish:
Cheese
Tomato
What to Do:
Combine all ingredients and shape into tiny balls, about 1 ½ inches in diameter. Mix spice ingredients and then roll turkey bites in mix. Cook over medium heat in a skillet, lightly browning on all sides, about 3 minutes per side. Test to make sure the center is completely cooked. If baking in oven, approximate cooking time is 20 minutes.
Serve with a small chunk of cheese and a tomato piece, skewered with a toothpick. Arrange on plate on a bed of lettuce.
Kristin Fitch & Sharon Pierce McCullough
ZiggityZoom.com
Save
Save