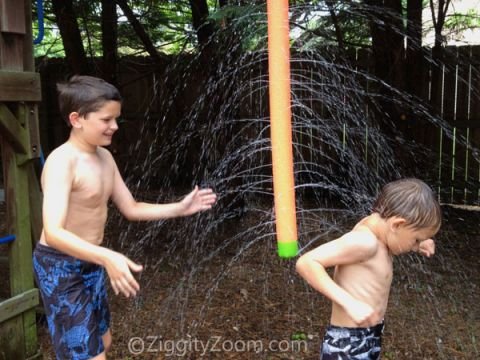 In case you haven't noticed … we love all the things you can make using inexpensive pool noodles.  We purchase our foam noodles from the Dollar Store so they are the perfect go-to material when making something fun for the kids to do.  Pool noodle crafts are great for outdoor summer fun games and activities and here at ZiggityZoom … we are all about family fun!
We made this simple Water Sprinkler in a few minutes and the kids were delighted.  You can either just lay it in the grass or hang it from a swing set or some similar high spot.
What You Need:
Foam pool noodle
Duct Tape
Skewer or Ice Pick
Hose
What to Do:
Puncture the pool noodle randomly around all sides of the noodle. The more holes, the better spray.  Take note of the photo.
Stuff one end with a small piece of foam or plastic cap, then duct tape the end securely.
Decide where you would like to use the sprinkler.  We tried it both on the ground and hanging from a swingset.  The kids liked it both ways.
Position your hose and then slide the end of the hose into the foam noodle, pushing it in a few inches so it holds securely.
Turn on the hose and the fun will begin!
More Summer fun and games
Sharon Pierce McCullough and Kristin Fitch for ZiggityZoom.