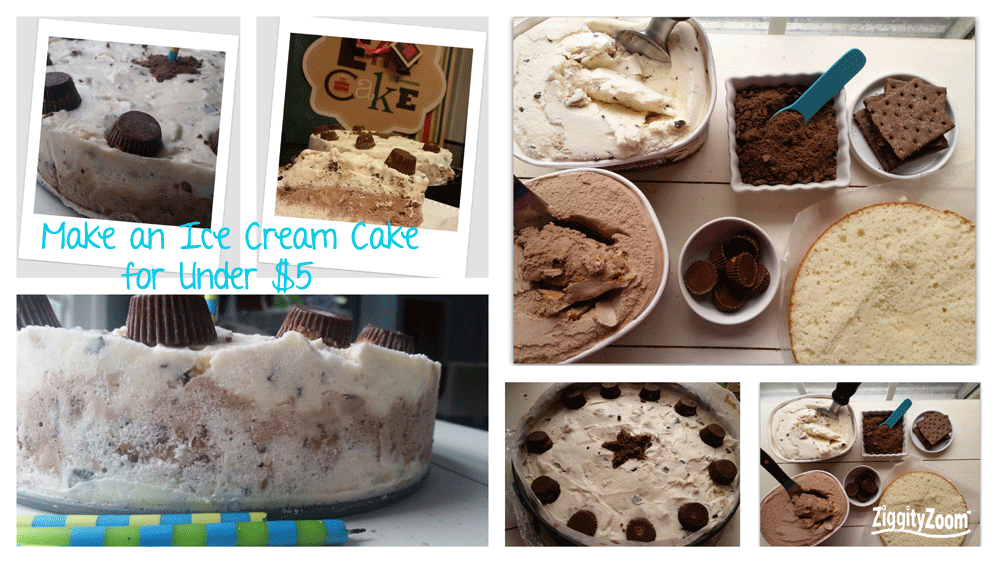 I love ice cream cakes.   Actually, my whole family likes ice cream cakes.  But lets be honest, buying an ice cream cake can run $25-40 for a regular-sized cake.  They are not cheap.  I decided I will make them from now on and I have even made two ice cream cakes within the last week.  One for my husband's birthday and another for my middle son's birthday party.
I made a Peanut Butter Chocolate Cookie Ice Cream Cake for my husband and a Birthday Cake Flavored Ice Cream Cake for my son.  They were both delicious and one of my son's friends said, "I am going to put in my birthday cake order with you from now on."  And my dad tried the cake and asked which brand of ice cream cake it was.  He was floored when I said I made it with store-bought ingredients.  But the best part is that you can make one for as little as $4 and up to $10 for a large cake.  I was able to serve about 15 kids with one cake and have a quarter of the cake left over.  For my husband's cake, we served 8 and had enough left over for cake on several more nights.
My ice cream cakes are a bit more free-flowing, as the ice cream layers are not a perfect straight line.  If you would like your cake to have a clean, crisp lines between ice cream layers, you can spread the first layers of ice cream and then freeze the cake until the ice cream is hard and then add the next layer of ice cream on top of it.  This way the first and second layer will not blend at all.  If you want to follow this step, you would need to freeze the ice cream cake for at least 45-60 minutes between layers.
Make an Ice Cream Cake for Under $5
Ingredients
2 gallons - favorite ice cream
1- 9 inch round cake (baked -1 single pan) sliced into two thin layers
toppings (crumbled chocolate graham crackers, Reese's cups, etc)
Instructions
Additional items:
wax paper
plastic wrap
Springform pan (10")
First you will need to bake a cake or buy a round 9 inch cake. I used a white box cake mix and followed the directions on the box. The box will make two 9 inch round cakes. I only used one of them for each ice cream cake recipe. After the cake is baked and cooled, remove the cake from the pan and slice it into two thin round layers. Set the cake aside. If you want to add a layer of candy or fruit to your cake you will prepare it now. I used Reese's peanut butter cups- I put them in a baggie and smashed them and then added them to a bowl.
To make your ice Cream cake, take out your two ice cream containers and remove the lids. You will need to wait 15-20 minutes for the ice cream to get very soft before assembling.
To prepare your Springform pan- Lay out your wax paper (or parchment) and set the Springform pan on top of it. Trace the bottom of the pan and then cut out the circle. Set the wax paper in the bottom of the cake pan. Next wrap the Springform pan with plastic wrap on the outside. This is in case the soft ice cream melts and to keep it from seeping through the pan.
To assemble your cake, put one layer of the cake into the Springform pan. Next, wrap the inside of the Springform pan with waxpaper. I cut two thin strips of wax paper and set it inside the pan. Now scoop ice cream onto the cake and in the area between the cake and pan. As the ice cream melts, spread the ice cream out to make a smooth layer and to fill in the sides of the pan with ice cream so there is an even layer beside the cake and on top of the cake. Once done add a layer of candy or fruit. Then add the next cake layer and repeat the step of adding more ice cream to cover the cake and fill in the sides so the cake is even and smooth. If you want to add additional candies or toppings put it on now. Lightly cover your cake with the plastic wrap and put it in the freezer over night or for at least 4-6 hours to ensure it gets firm.
Remove the cake from the freezer 15-20 minutes before eating and remove the sides of the spring form, plastic wrap and wax paper from the sides of the cake. Serve the cake on a large plate. Enjoy.
https://ziggityzoom.com/make-an-ice-cream-cake-for-under-5/
Copyright ZiggityZoom Living- Kristin Fitch
How can we make this for under $5 ?
You can make a basic ice cream cake, without extra candy or fruit, for under $5.  We bought a cake mix for $1 and found 2 gallons of ice cream for less than $4.  Watch your local stores and dollar stores for ice cream sales and you can definitely find the ice cream bargains.  It seems like most stores have one brand or another on sale at most times during the year.
Let us know if you have made ice cream cake and if so, what flavors did you use?
Kristin Fitch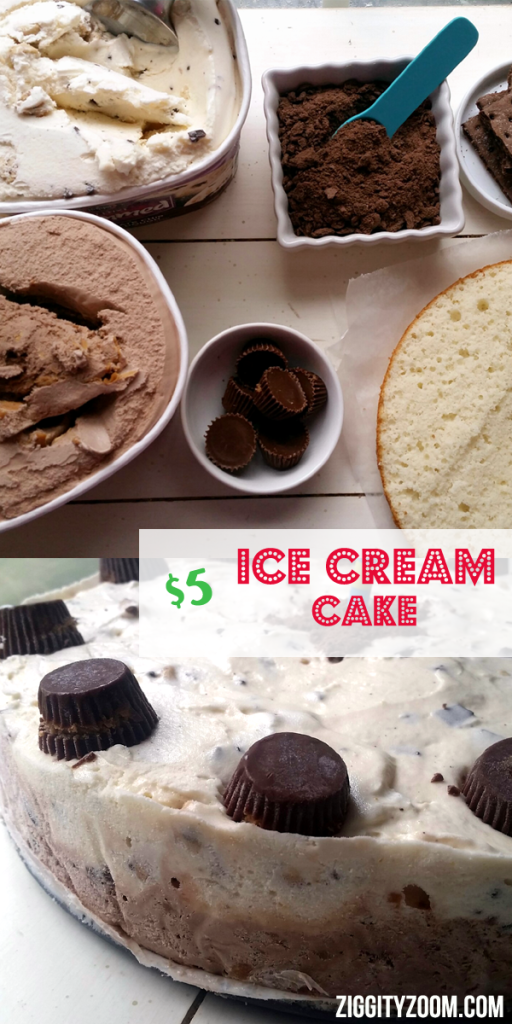 Save
Save