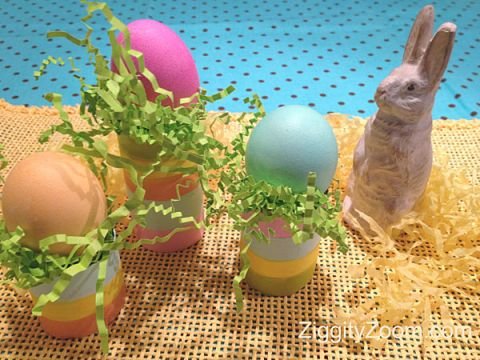 Fun family crafts are one of our main features here on ZiggityZoom and we love these DIY Easter egg holders and so will you!  These egg holders are so pretty that no one will guess that they were made from paper towel tubes.  This is one Easter craft project that the whole family can have fun making.  We made all of ours pastel stripes but they will love stunning done mixing amd matching stripes, solids and dots.
Be sure to cut your tubes into varying sizes for the greatest visual impact.  These make a really pretty Easter display when topped with dyed Easter eggs.  The Easter Bunny will be hopping for joy when he sees your creations!
What you Need:
Paper Towel tubes
Pastel paints
Brushes
Scissors
Easter grass (optional)
What to Do:
Cut tubes into varying lengths.  Ours vary from 1.5 inches to 3 inches.
Paint with stripes or paint a solid color.  Possibly add dots to solid backgrounds for another fun look.
Let dry thoroughly.
Add Easter grass and top with an egg.  That's it!
Hoppy Easter!
By Sharon Pierce McCullough
Save
Save
Save